Theses on international photojournalism
Thesis 1: Make a difference
Anna Zekria presents the first of seven photo theses that discuss the current issues of international photojournalism.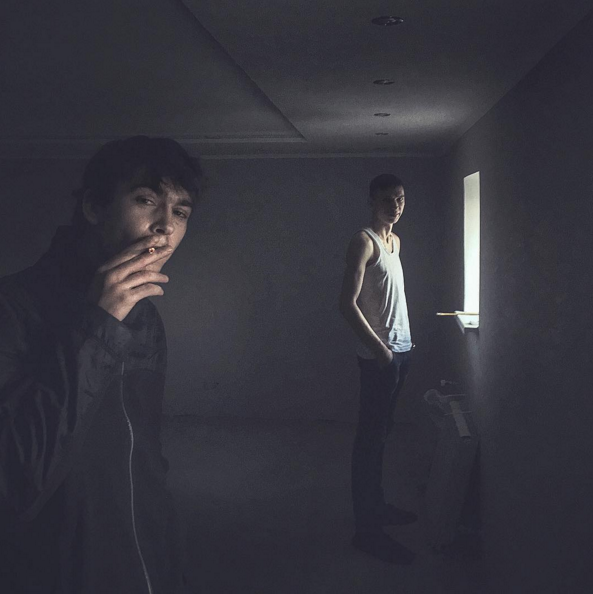 From the Instagram account of Dimitry Markov, who won a Getty Instagram grant with this photo for "documenting and sharing stories of underrepresented communities that otherwise rarely come into focus."
There is a lot of discussion on what photojournalism is today, or rather what it should be. Most of it focuses on issues like digital image manipulation and other technical issues that are undeniably important - but are these topics really that decisive? Shouldn't we be talking about professional integrity, ethics and the influence our work has? 
We should stop thinking in terms of labels like artists, reporters, or photojournalists. Rather, we should think about how to use our knowledge, experience and the visual language we "speak" to collaborate with each other and our communities and try to make a difference. Otherwise, how relevant is our work?
In a documentary about his life and work Don McCullin, one of the greatest living war photographers, said: "I don't just photograph, I think." How true this is.
Anna Zekria is a photographer, multimedia producer and agent. As owner and director of the independent photo agency Salt Images (SI), Anna has been actively supporting documentary photographers in Russia, bringing numerous projects to worldwide recognition.
Thesis 2: From the Obvious to the Sublime
Kaveh Rostamkhani presents the second of seven photo theses that discuss the current issues of international photojournalism.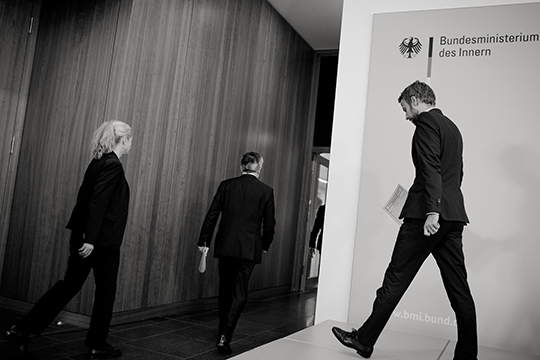 Thomas De Maizière offering an official press statement about refugees. This picture is from the project "Rebordering Europe" by Kaveh Rostamkhani. The full project can be seen here.
The immediate impact of classic photojournalism can reduce the often complex socio-political issues behind the imagery. However, the development of Web 2.0 has enabled new presentation formats which allow for more nuanced visual narratives aiming at a broader and more engaged audience, beyond the limits of narration traditionally imposed by magazine layouts.
The influence of visual media coverage on the current public debate on migration in Europe may serve as an example.
Uniformly sensationalist media coverage does not question the wider socio-political factors within the migration debate, such as the legitimacy of borders, border policy and the structural hegemonies beyond them. 
The undifferentiated media coverage therefore legitimizes these factors, despite its claims to objectivity. Such coverage either criminalizes migrants as lawbreakers, without questioning the legitimacy of the law, or it romanticizes their flight as a "great adventure" and reduces them to little more than victims, while constantly failing to question the causes of their misery. As a result, migrants become targets of racist, nationalist and islamophobic discourses.   
The challenge for photojournalists is to bring order to confusing situations and classify information by its significance instead of reproducing staged events arranged by powerful actors seeking to use the media for their own ends. 
Photojournalism should present different perspectives on socio-political events, empower the underprivileged and raise questions in readers' minds. 
This cannot be separated from presentation context since it is a substantial part of photojournalism. Web 2.0 scroll-essays can allow for a more dedicated visual auteur-narrative beyond the classic linear photojournalistic narratives. This can allow photojournalism to develop towards less obvious but more sublime aesthetics without losing its impact.
Kaveh Rostamkhani is an independent photojournalist. He is currently working on personal documentary projects. He also produces work for various magazines and NGOs.
Thesis 3: Bending Visibility
Nils Bröer presents the third of seven photo theses that discuss the current issues of international photojournalism.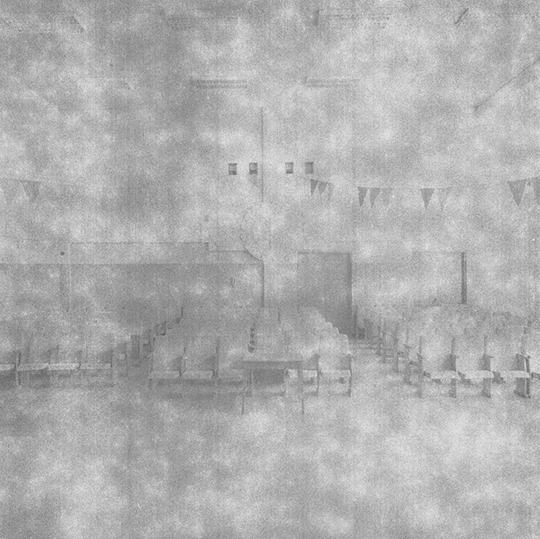 From the series, "Silent Histories," by Kazuma Obara. More images from this series can be found here.
The future of photojournalism will be driven by overcoming the classic narrative techniques of linear storytelling to tell stories differently.
By awarding Japanese photographer Kazuma Obara's "Exposure" series first prize in the 2016 People stories category, the World Press Photo Jury made a point of supporting innovation – a hint as to what the future of photojournalism could look like. It also brings back an essential discussion: The question of how to integrate non-traditional and innovative layers to underscore the story visually.
The series consists of eight frames shot on medium-format film found close to the Chernobyl nuclear power plant. It explores the life of a young woman who was one of the victims of the reactor accident. 
What makes this series special is the texture of the photo, which was created by merging different elements to create visual interdependency. The monochromatic images are grainy and bleached out. Radiation has put its stamp on the material – and the photo – both impairing and defining what the viewer sees – and sending an implicit message of the decay caused by radiation.
Nils Bröer studied Cultural Sciences and Media and Mass Communication Sciences. He works as a photojournalist and reporter for various magazines and also keeps busy as an author, answering questions pertaining to photographic theory.
Thesis 4: Team Up!
Chris Grodotzki presents the fourth of seven photo theses that discuss the current issues of international photojournalism.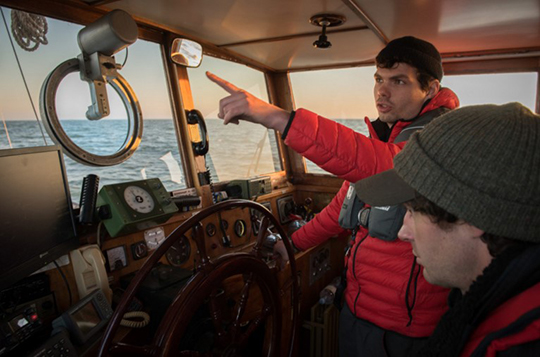 In a world heavily oversaturated with information, traditional hunter-gatherer journalism has outlived its purpose. 
We don't need so much more information. But we need people who are able to connect the dots in this overwhelming, fractured informational landscape. 
The Internet, with its nearly infinite multimedia possibilities, could offer a great opportunity for this. But without us questioning our own approaches, ideals and traditions, "multimedia storytelling" will be just another awkward attempt to ride a dead horse.
"New media" needs a new media landscape, one not only based on traditional journalism. 
So let's think out of the box, team up with programmers, thinkers, activists, social critics, hackers and artists – and make our stories matter again.
Chris Grodotzki is a freelance multimedia journalist and a founding member of the jib collective.
Thesis 5:
Delizia Flaccavento presents the fifth of seven photo theses that discuss the current issues of international photojournalism.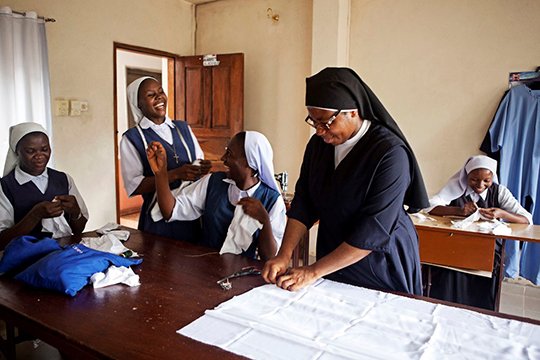 Although there are more photojournalists than ever operating across the globe today, images published in media outlets continue to pander to stereotypes, providing a monotonous narrative of suffering and destruction to the exclusion of all else. 
As prior World Press Photo jury secretary Stephen Mayes once noted, "The afflicted, the poor, the injured are photographed way in excess of their actual numbers… 90 percent of the pictures is about 10 percent of the world…From the infinity of human experience, the list of subjects covered by WPP entrants would fill a single page, and could be reduced even to three lines: the disposed and the powerless; the exotic; anywhere but home." 
Take Nigeria, for example, which is usually only featured through the lens of corruption or Boko Haram, the terror group operating in the north. There is a lot more to Nigeria, though.
With the project, "Not only Boko Haram," I decided to feature a group of nuns running a school for 1,000 students of all ages. The school includes room and board for 100 girls too poor to be able to afford school otherwise, a clinic for the poor and a community service and home visitation program in what was once Biafra. I chose this school to show a side of Nigeria that is often ignored by international media: joyous, despite poverty; stubborn in the face of hardship; and embracing life through sports, music and dance.
Delizia Flaccavento works as a freelance photographer, mainly focusing on social topics. She teaches documentary photography at Bahcesehir University in Istanbul and has collaborated with various NGOs.
Thesis 6: Avoid the Trap
Francesco Giusti presents the sixth of seven photo theses that discuss the current issues of international photojournalism.

During major news events – but not only – photographers often take a generalized, homogeneous and glamorized approach to their work. As a result, millions of very similar images appear, rapidly saturating and anesthetizing the public. Photographers should stay away from this trap, however. 
That's because the deeper story is never revealed where it is most dramatic and spectacular. Rather, the story is found away from the hustle and chaos, where silence reigns, hidden in peripheral corners and folds, in the ravines where the dust settles, in everyday gestures, ordinary and intimate. It lies in the seemingly insignificant details. 
These unconventional images are capable of creating an emotional impact that goes far beyond what is usually depicted.
For my series, "The Rescue," about migrants arriving on Lesbos, I decided to step away from the pack. As I walked around the island every day, I began to stumble upon an incredible amount of family snapshots, passport photos, and personal belongings that were either lost or discarded by migrants after their arrival. These photographs and personal items allowed me to avoid falling into the trap.
Francesco Giusti works as a freelance documentary photographer and focuses on investigating contemporary topics, such as migration, labor conflicts and social tensions. His work has been widely published and exhibited. In addition to his work as a photographer, Francesco administers photo-workshops in different countries around the world. He is based in Milan.
Thesis 7: Think beyond the frame.
Dario Bosio presents the last of seven photo theses that discuss the current issues of international photojournalism.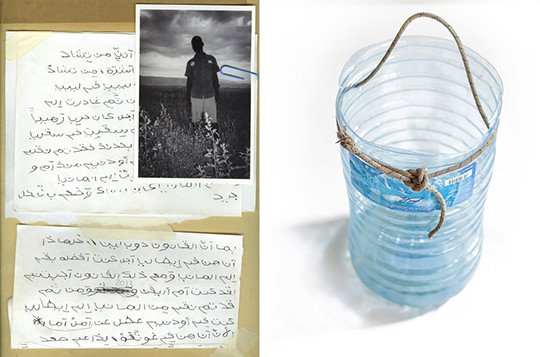 The repetition of the same tropes, over and over again, has done nothing to foster a better understanding of the world. 
On the contrary, it has flattened the depiction of every crisis into a handful of clichés which are quickly forgotten, and the lack of uniqueness of the images fail to make a lasting impression on the audience. Instead, we should be open to working with techniques not traditionally part of photojournalism. Photographers should borrow from portraiture, still life, or even be willing to contaminate our images with external elements. Most importantly, though, we need more openness from the publications themselves.
It is futile to bend the frame if nobody publishes the work. The powers that be must break the rules and try something different because the same old thing is not working in our magazines and newspapers anymore. We must be brave enough to jump into the void and experiment, to produce and publish that which breaks the mold.
Dario Bosio specializes in documentary photography. He also works as an editor and a curator. In 2015 he worked as a photo editor at Metrography, the first Iraqi photo agency. He co-produced the project, "Map of Displacement."
The n-ost Media Conference Translating Worlds yielded five essays on the challenges foreign correspondents are facing today, as well as a series of seven photo-theses concerning modern photojournalistic practice. The complete works are available here:
---
88
---